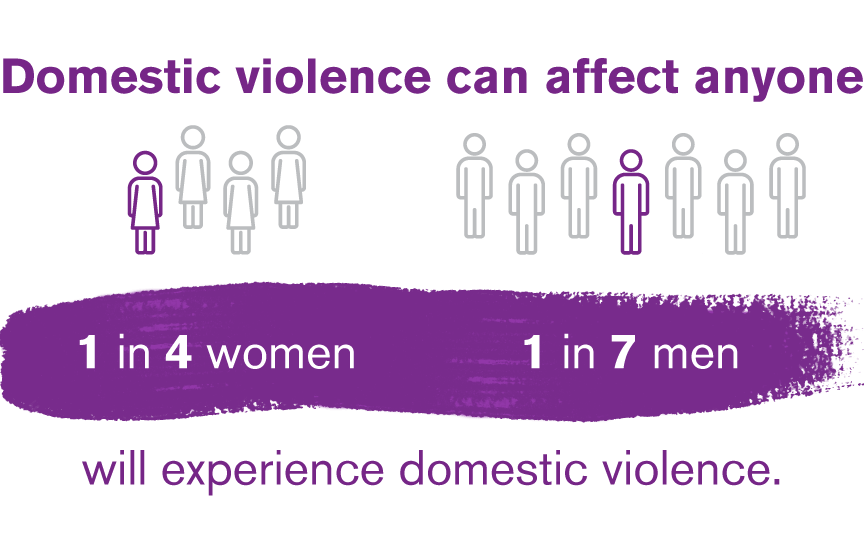 For more statistics on domestic violence visit: NCADV
Domestic violence is a systematic pattern of abusive behavior that may include:
Threats, intimidation, or throwing/breaking of objects

Name calling, isolation and control

Slapping, hitting, or punching

Grabbing, pushing, kicking, or strangling

Forced sex

Use of weapons
Safety Strategies for Survivors:
If an incident occurs:
Try not to be trapped in a place where there is no exit or where there may be weapons

Call 911 and report bruises, injury, and damaged property

Seek medical attention and have doctor note how you were injured

Seek temporary safety at a hotel, with friends, or at a shelter

Seek information regarding protective order
Overall strategies:
Create an exit plan with your children to prepare for the next incident

Observe patterns of abusive behaviors to avoid triggers

Keep a list of phone numbers memorized in case something happens to your mobile device

Pack a bag with clothes, important papers, money, medications and keys and keep it somewhere you can get to it if you have to leave

Build a support system

Get an escort to and from your car at work

Vary your daily schedule and routes
If you are ready to leave:
Have an evacuation plan

Become familiar with local resources to help

Think of where you can go where you are safe

Consider what areas would not be safe

Be aware of the abuser's schedule. Plan you exit when abuser is not home (if possible)

Request a civil standby from the local police department
Digital Safety:
Keep all evidence of abuse on a flash drive

Create a back-up email that the abuser knows nothing about

Do not give out passwords to anyone

Clear browsing and caching history regularly, especially if you are searching for help online

Keep all online profiles private

Do not post personal information (for example, "checking-in" on social media or posting identifying landmarks)

Keep location services off

Monitor devices for Spyware

Check Bluetoooth often to make sure nothing is connected, like AirTags
Child Safety:
Make sure children know how to call 9-1-1

Inform children's school of the situation if it is safe to do so

Children know to stay out of a flight

Children know who they can call or go to if they are able to safely escape the home during an incident
Bay Area Turning Point can help you plan and accomplish these goals. Call our 24-hour crisis hotline at (281) 286-2525 to schedule an appointment with one of our advocates. We can help you plan for a safe and violence-free future.
Abuse is never your fault. YOU DESERVE RESPECT.