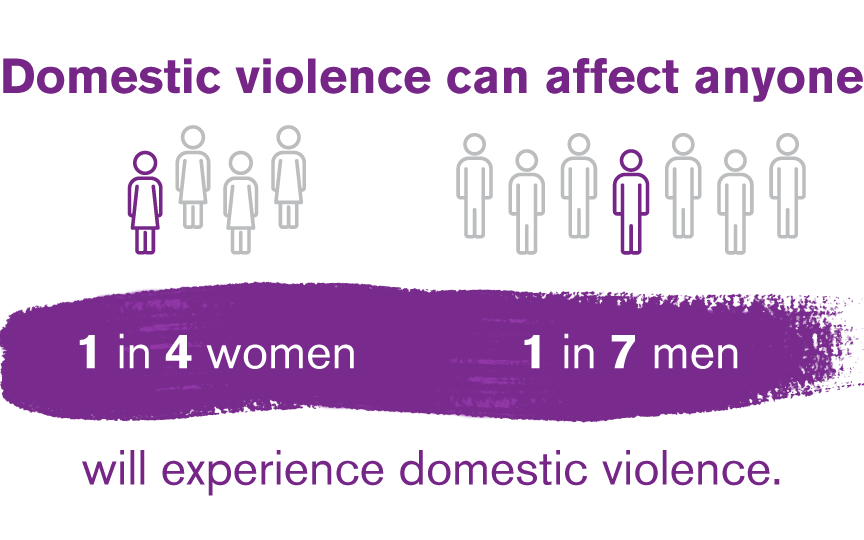 For more statistics on domestic violence visit: NCADV
Domestic violence is a systematic pattern of abusive behavior that may include:
Threats, intimidation, or throwing/breaking of objects

Name calling, isolation and control

Slapping, hitting, or punching

Grabbing, pushing, kicking, or strangling

Forced sex

Use of weapons
Safety Strategies for Survivors:
If an incident occurs:
Try not to be trapped in a place where there is no exit or where there may be weapons

Call 911 and report bruises, injury, and damaged property

Seek medical attention and have doctor note how you were injured

Seek temporary safety at a hotel, with friends, or at a shelter

Seek information regarding protective order
Overall strategies:
Create an exit plan with your children to prepare for the next incident

Pack a bag with clothes, important papers, money, medications and keys and keep it somewhere you can get to it if you have to leave

Build a support system

Get an escort to and from your car at work

Vary your daily schedule and routes
Bay Area Turning Point can help you plan and accomplish these goals. Call our 24-hour crisis hotline at (281) 286-2525 to schedule an appointment with one of our advocates. We can help you plan for a safe and violence-free future.
Abuse is never your fault. YOU DESERVE RESPECT.