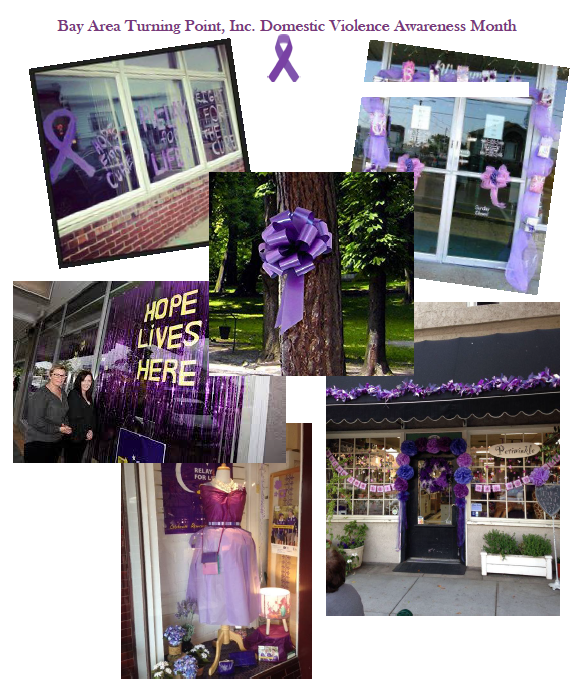 Dear Valued Community Partner,
In honor of Domestic Violence Awareness Month (DVAM), Bay Area Turning Point, Inc. (BATP) is preparing several events to raise awareness. "Paint the Town Purple" begins our month long campaign to raise awareness about DV and BATP services.
For the entire month of October BATP is challenging local businesses and schools to make us a promise to GO PURPLE!
Wear purple, change outdoor lighting, display a purple wreath, bow, yard sign or paint a purple ribbon on car windows
Businesses can dedicate a window showcasing all purple merchandise.
Thank you for making the pledge to bring awareness and take action by simply promising to #GoPurple with Bay Area Turning Point, Inc. (BATP) for Domestic Violence Awareness Month (DVAM). Your investment will make a positive difference in the lives of those in need in our community.
Thanks to your contribution, you have been able to provide more 23,300 shelter days, over 93, 400 meals and snacks and over 1,600 hours of individual therapeutic counseling to those fleeing domestic violence or sexual assault.
Enclosed you will find what we're calling our "Purple Packet," which includes everything you need to start to #PaintTheTownPurple! We've also included information about BATP.
On behalf of all of the people we serve, thank you for your investment in our community and carrying on the tradition of improving the living standards of individuals and families and promoting stable communities. Families are stronger, children are healthier and our community is a better place because of you!
With gratitude,
Leigh Ann Fry, President/CEO